Here's a quick overview on kitchen cabinets from custom designs to stock options
Cabinet construction could end up being the single biggest expense of your entire renovation, and the results are the most obvious visual proof of your investment, so this can feel like a heavy decision. But with the right education and research, it can be a seamless and easy decision. The challenge (and opportunity) is that your choices are endless, but if you focus on a few key factors, you can find the right cabinets for your kitchen renovation.
Even though it's tempting to assume that your budget is the only consideration and while it's true that custom cabinets can be a lot more expensive than stock cabinets, they don't have to be. Even the cheapest kitchen is an huge investment, so if budget isn't necessarily the deciding factor, how should you decide and how can you keep your budget from dictating your choices? Let's take a look at a few definitions:
Custom vs Pre-Fabricated Cabinets?
Stock cabinets
IKEA is generally considered the go-to for stock cabinets. Unlike most anyone else, they mass-produce a system of set sizes, colors, finishes, and features that you pick and choose. The pieces of your order are pulled from stock supplies and shipped to your home, where you need to handle both the assembly and installation. IKEA keeps costs low because they are sending your order to you in pieces and because the materials they use are very inexpensive.
Pre-fabricated cabinets
Home Depot, Lowe's, and other big-box national retailers are distributors of independent lines of cabinets. They offer a semi-custom option: like IKEA, you pick and choose from set sizes, colors, finishes, and features (though national retailers tend to have more options overall). Differing from IKEA, your order is then manufactured and assembled for you so that your cabinets arrive ready for install. Because you have more choice in materials and construction, the range of prices varies. You'll probably pay more upfront for higher-quality materials, but you could spend less on labor because the cabinets are assembled before they get to you for install.
Custom Cabinets
Custom cabinets are designed and constructed by hand based on your individual design. You define the sizes, materials, finishes, and features and your order is hand-crafted and delivered for install. Because your choices for materials and construction are countless, the range of material and labor costs is all over the place. The costs here are generally distributed between your choice of material and style, labor, and a more personalized design and customer service approach.
Custom cabinets might be less expensive than you think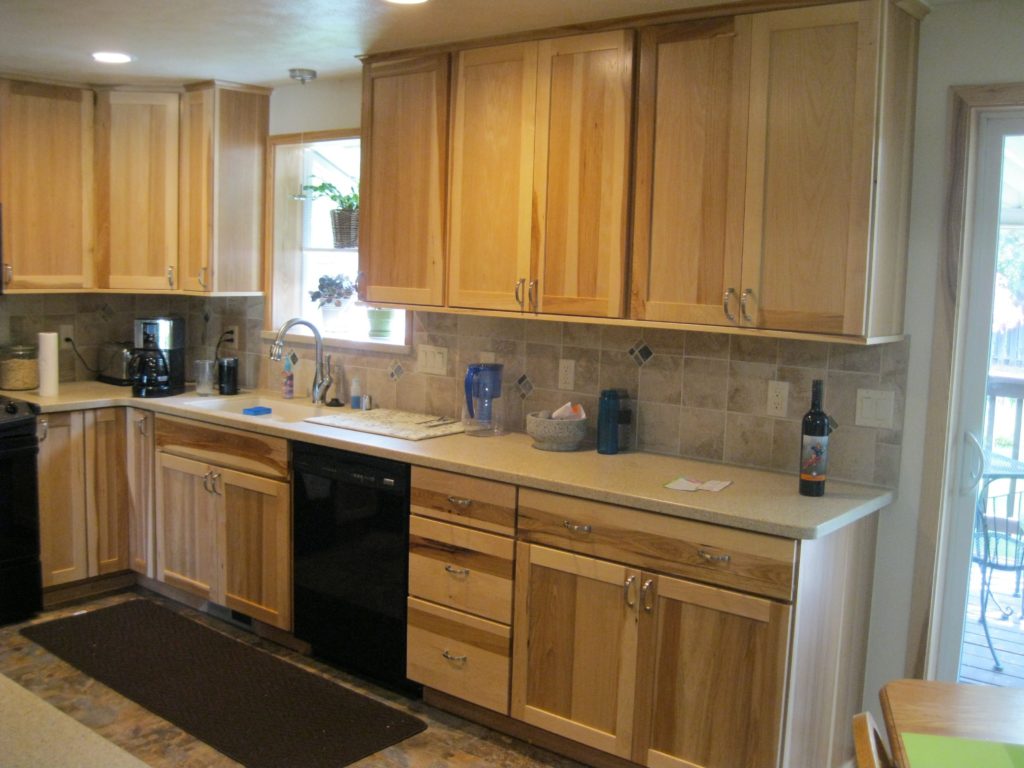 In a tight kitchen, stock and pre-fabricated cabinets in standard sizes might not be worth the initial material savings because you will need more inventive labor to fit everything in.
In a large kitchen, extra depth or high ceilings give you an opportunity for additional storage and functionality. Non-standard cabinet heights and depths can bring value to your renovation and re-sale value. Multiple corners, awkward niches, and unusual footprints can be tough to outfit. Stock and pre-fab cabinets in standard sizes may force you to spend money on filler materials, wasted space, and labor for semi-custom adjustments.
Custom cabinets might be worth extra money if you plan to stay for years
Semi-custom and custom cabinets offer higher quality materials in sturdier thicknesses that last longer. Particle board and MDF, two common materials for stock cabinets, are susceptible to water and have a shorter life span than plywood and wood. 1/2" particle board will not last as long as 3/4" or 1" furniture-grade plywood cabinet bases, and solid wood doors and drawers will endure tougher handling over the years.
Custom cabinets also normally use sturdier construction and joinery methods. Custom cabinetmakers will often use dovetail joints that interlock pieces of wood to distribute weight and stress, whereas stock nut, bolt, and nail methods isolate wear on a few points. Custom cabinets offer options for tougher hardware elements like hinges and drawer sliders. In addition, custom cabinetmakers generally provide a higher level of design support and customer assistance.
You might be fine to handle the ordering and delivery of a stock system, but if you hit a roadblock, custom cabinet companies expect to support you and respond personally.
Pre-fabricated cabinets might work best for you if your renovation timeline is fast
Custom cabinets have drawn-out lead times. If you're getting ready for a renovation in the next couple of months, you can get your hands on pre-fabricated cabinets in-store on a same-day basis, or delivered within 2 or 3 weeks. A perceived weakness of pre-fabricated cabinets is actually a real strength: for a lot of homeowners, unlimited choice is not necessarily desirable. Many homeowners go with custom cabinets because they think they want options and then end up feeling overwhelmed and stuck. Pre-fabricated cabinets offer a pick-and-choose experience that requires less homework and decision fatigue. This can help a ton with the final decision-making.
For more tips, tricks, and industry insight, make sure to follow our blog at: