So you're in the market for new kitchen cabinets, but the number of choices for kitchen and/or bath is so huge it's almost paralyzing. How do you decide with all the choices and possibilities? You might
think it's all about price, but even with "bargains," you have a lot of options.
So, think of yourself as a student in Cabinets 101; the more you know, the better consumer you will be:
Learn the definitions – words like "custom," "semi-custom" and "in-stock".
"In-stock" and "ready-to-go" generally mean that the cabinets are in boxes that you pull off the shelf at a big box or warehouse store and take them to the cash register. You might think this is a do-it-yourself possibility, but for the most part it only works if you're installing something small, like a vanity in a powder room or something similar. Even then, you need to know the exact dimensions of the space you're filling.
The next term you should definitely know, "builder's grade", o
ffers more options on dimensions for cabinets. But drawers can be matched with a "soft" close. Generally, you choose from standard boxes for the cabinets that can only change in size by 3-inch increments. You can order these cabinets through stores or remodelers or even online.
With "semi-custom," you're also ordering standard sizes. But, the manufacturer will make a box to fit your dimensions – like 12 ½ inches wide instead of a standard 12 inches. The quality of materials is way better; there are more choices in wood species, door styles, colors and finishes. Even builder's grade is offering more and more options all the time.
"Custom" cabinets have even more expensive materials and customized finishes. They can be ordered from manufacturers, but a lot of custom shops can also build cabinets for you.
Almost all grades of cabinets use some plywood and furniture board (sometimes called particle board) in construction, but generally, the more that you pay, the better the quality of materials and more long-lasting they will be.
Look at the advantages and disadvantages of "framed" and "frameless" cabinets.
Framed cabinets are found almost everywhere in older homes. Many cabinets are built with a face frame in front with doors hanging off the face frame or drawers built into that frame. While face frames are often used with traditional designs, European-style or contemporary cabinets are often frameless.
Cabinet companies say frameless construction is widely used on the East and West coasts and is growing rapidly in popularity everywhere partly because frameless can often be installed more quickly.
Frameless cabinets have larger drawers and doors that create a "full overlay" on the cabinet. When they are installed, all you see are the doors and drawer fronts. There are also no center stiles running down the middle between cabinet doors. So, you generally get more storage and accessibility.
Usually, you can benefit from the help of a professional designer or remodeler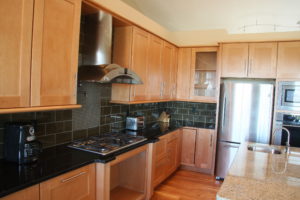 Complications with dimensions can be hard; you want an experienced person to measure and help you make decisions. A designer or remodeler can also bring samples to your home for decision-making.
What do you do if the cabinet isn't wide enough?
How do you fill the space between the cabinet and the wall?
What about the countertops?
A good example of a design problem that needs to be solved is how tall your base cabinets will be. The new, most popular height is 36 inches. But most electrical outlets are placed too low for that. A tall base cabinet could cover them up. What then?
Even if you're an experienced woodworker, what about the backsplash and the plumbing and faucets and sink?
Made-in-America is possible and may be desirable
Many outstanding cabinet companies are located in the United States. Our independent "SHOP"/KEYWORD can make cabinets at competitive prices and we'll make sure its done right for you.
You can also buy foreign-made cabinets from large stores that could be cheaper. But sometimes their cabinet boxes come ready-to-assemble instead of all put-together, and your remodel becomes more labor intensive. You also want to check the quality of foreign goods carefully. Inferior materials and finishes can deteriorate quickly.
You can save money by skipping the extras.
The more elaborate the style of the doors and the higher the quality of the wood species, the higher the cost. Oak is less expensive; hickory, maple and cherry can be higher in price. When you buy pullout shelves or sliding drawers that can hold pots and pans, the cost goes up. Glass front doors and elaborate crown molding can add to the price. Using some open shelving might be practical for you and less costly.
Our final note…
Obviously, you probably don't need new cabinets unless the old ones are in bad shape or unless you want to change the footprint of your kitchen. After all there are ways to give cabinets a facelift instead of ripping them out.
For more tips, tricks, and industry insight, make sure to follow our blog at: